2017 Holly Days Artisan Faire.
Be a part of The 2017 Holly Days Artisan Faire!
For more information contact: boutique@sacredheartsaratoga.org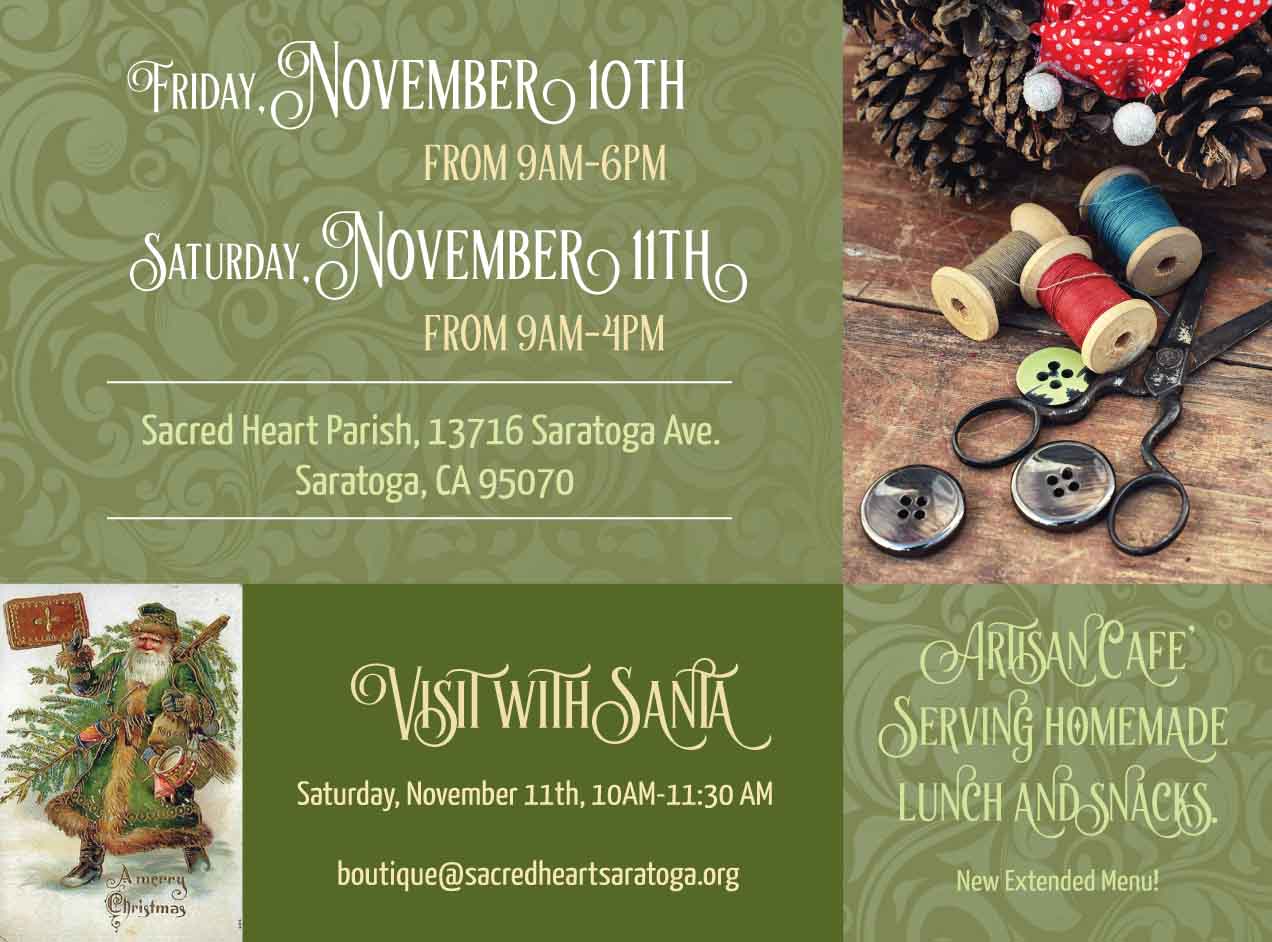 Welcome to  our 2017 Vendors 
The 2017 Artisan Faire is Outstanding! Please enjoy our expanded Pavilion bringing more vendors with plenty of Holiday goodies for Holiday Shoppers. Don't miss the 2017 Artisan Faire.  Stop by on November 10th and 11th.
Thank & welcome to our 2017 Artisans: 
Fab Treasures

All Washed Up

Beadalena

Decorative Notions

Splash Jewelry

Charlyn Jewelry

The Mosaic Gardens

Alma Hansen

Cynthia Sasake Design

Anna George Artwear Paintings

Sky Blue Designs

Know You Are Loved

Rio Jewelry Studio

Bake Love

Uniques Gift Reserve

Bella B Originals
Bev's English Toffee
Raj Costumes
Sandy's Summer Kitchen Style
Woo Garden
Hilda Pivk
Teezhandsuds
Sun Topiary
Roxanne's Biscotti
Cookiely
David Patrick Blown Glass
Bless & Heal Me
Decour Designs
Theresa Mattson
Bound by Hand
Specially Yours Personalizing
Cherish & Images by Erica
Gloria Oneto
Wrapped in Love Blankets
Cindy Fraboni
Clay de Lys
Cosmogems
Arlene Bonnet
Scrapbooks by Mom and me
Whimsicals
Turning Hands
Seaflower Jewelry
Anita Anvari
Sacred Heart 8th Grade
Thao Tea Company
Wende's Wonders
Felton Farms Soap Co.
Daya Designs
Deborah M. Kuhs
Terri Lanoie
Dream Light Jewelery
Emma's Delights
Stitched with Joy by Joy
American Heritage Girl's Troop
Forever Oh So Crafty
Tres Vivant
The Engraving Company
Gourd Art by Cyndee
Specially Made For You
Raghu's Nature & Landscape Photography
Linda's Obsession
Greetings from Diana
Ran Design
Sister Succulents
Squirt & Doodle Pet Apparel
Totes by Clydesdale
Starmek Creations
Sunshells by Maui
Harumo Sato
Grace Tang
Krista Sheldon
Woolables
Krupa Paranjape
Earth's Sister
Grandma's Garden
Linda's Jewel Trees
Marie Interiors
Messy Play Kits
Minibee Beauty
Arts & Cards 4U
Pigs Fly
Tomaino Designs
Morgans Designs
Miss M Bowtique
Paper Sweetly
Praxis Studios
Stitchery by Kate
Nousas
Stripes Boutique
Tobey's Ceramics and Gifts
Bellamare Seaglass