2017 Holly Days Artisan Faire.
Be a part of The 2017 Holly Days Artisan Faire!
For more information contact: boutique@sacredheartsaratoga.org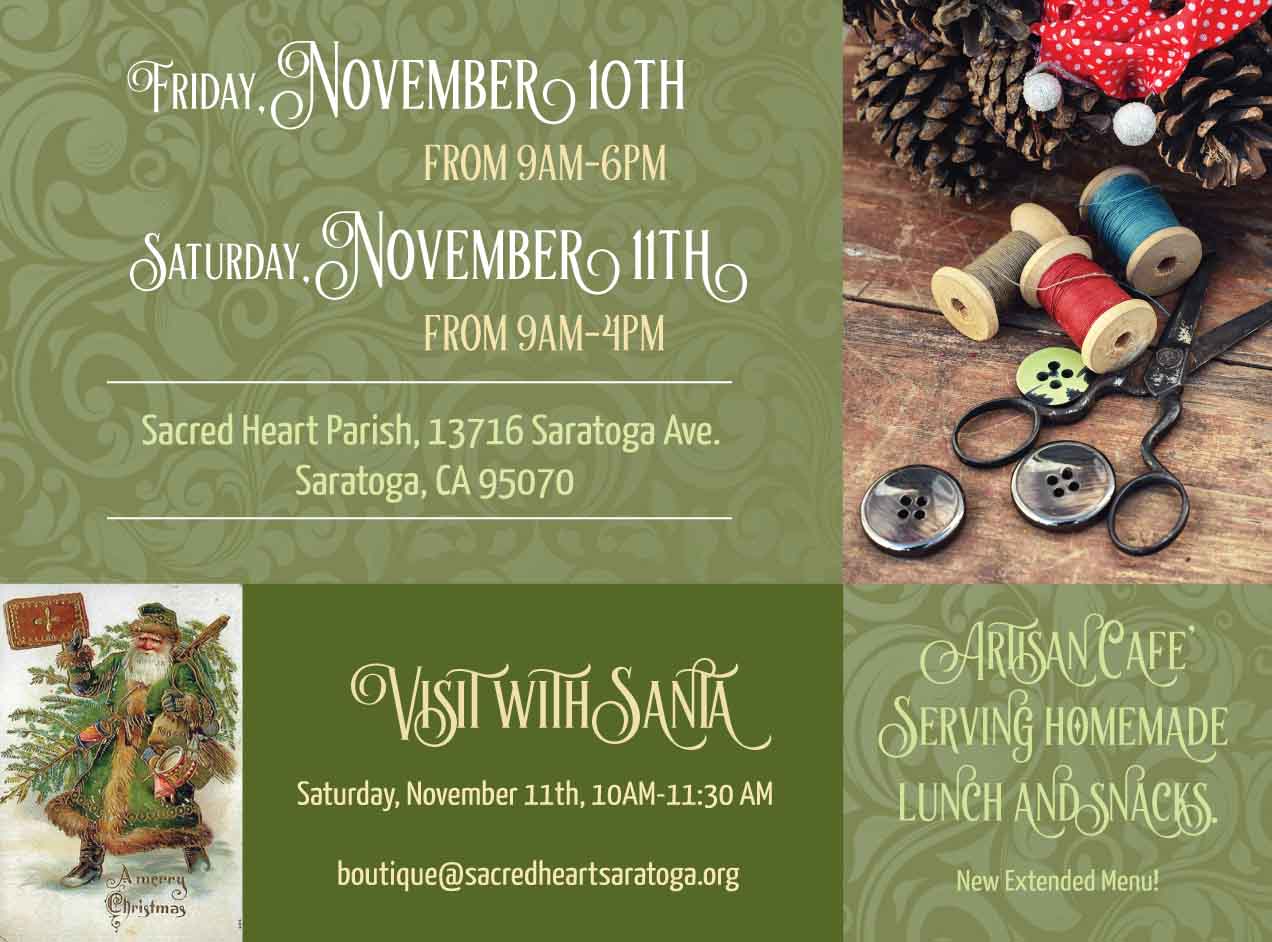 A Big Thank You to our 2016 Vendors!
The 2016 Artisan Faire was our biggest ever!  We were thrilled to have vendors come from all over the bay area and beyond and excited about the success of our new Pavilion which brought lots of Holiday Shoppers. Please mark your calendars for the 2017 Artisan Faire which will be on November 10th and 11th.
A special thank you to all of our 2016 Artisans: 
Fab Treasures

Jewels by Cheryl

Beadalena

Decorative Notions

Splash Jewelry

Lynne Denman & Charlotte Miller/Charlyn Jewelry

Mosaic Gardens

Seaglass Jewelry

Cynthia Sasake

Soy Candles

Sky Blue Designs

Know You Are Loved

Archer/Rio Jewelry Studio

Melinda Kaewert

Uniques Gift Reserve

Hey Hey Gourmet
Big Paw Olive Oil
Roxanne's Biscotti
Cookiely
The Party Line
Ruth Anne's Doll Clothing
David Patrick Blown Glass
Justine Creations
Decour Designs
Theresa Mattson
Lilian Glim/Tulips & Poppies
Specially Yours Personalizing
Mary Ann Askins
Gloria Oneto
Wrapped in Love Blankets
Cherish & Images by Erica
Summer Kitchen Style
Felton Farms Soap Co.
Teezhandsuds
Wildvines Soapery
Terri Lanoie
Sandy Willet-Payne
Heart and Home Creations
Stitched with Joy by Joy
BVINDI Inc.
Noelle's Miniature Garden
Tres Vivant
Arlene Bertellotti
The Engraving Company
Built by Bob
Specially Made For You
Margan Liberty Bace
Linda's Obsession
Hilda Pivk, Ran Design
Ran Design
Grace Tang
Painted Silk
Woolables
Mindy-Flatow-Dickens
Earth Sister
Grandma's Garden
Joyce Marie Sawaya
Mary Jean Daigneault
Something Special By Nancy
Jewel Trees
Gabriel & Marco Hernandez/ Arts & Cards
Pigs Fly
Tomaino Designs
Bill McCarey Birdhouses & Outdoor Furniture