Sacred Heart Quick News & Links:
---
Walk for Life-West Coast, January 27th, San Francisco
Click here for free bus and registration
---
Parish Center Dedication, January 21, 2018
January 21st FIRE Speaker changed due to Parish Center Dedication
Bishop McGrath will celebrate 11:00 AM Mass followed by reception and dedication in the new Parish Center
---
Vests & Veils – First Communion Clothing Drive… click here
---
Human Trafficking Seminar – click here
January 21st, 2:00 PM – 3:30 PM, Saratoga Federated Church
---
Thank you for your involvement! Check-out our impact…. click here
Volunteer Opportunities
Sacred Heart Parish is actively volunteering at Martha's Kitchen, Sacred Heart Community Service, and West Valley Community Services. Follow link above to find out more! 
---
Keep Updated With The Parish Center Renovation! See The New Photos! >
---
Flourish as a dynamic Catholic in our parish community, as an individual, and in the world. Our vision is to nurture your faith journey with Jesus Christ. We invite you to re-engage, re-energize and re-discover Catholicism here at Sacred Heart! Start with our Welcome Mission.
Sacred Heart Mass Schedule:
---
Daily:
7:30am ( M, T, W, F, Sat.)
Thursday:
8:00am (School Mass)
Saturday Eve Vigil:
5:00pm
Sunday:
7:30am, 9:00am, 11:00am
Saratoga Retirement Center:
Sundays 11:00am,
Friendship Hall
Benediction:
First Fridays 12:00pm,
Sacred Heart Church
Reconciliation:
Saturday 3:30pm - 4:30pm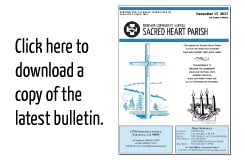 Presider Schedule
January 20th & 21st
Saturday:
5:00 pm: Fr. Robert McKay
Sunday:
7:30 am: Fr. Gary Thomas
9:00 am: Fr. Robert McKay
11:00 am: Bishop Patrick McGrath, Fr. Gary Thomas, & Fr. Robert McKay
Saratoga Retirement Center
11:00 am: Msgr. John Sandersfeld
---
Our Vision for Sacred Heart Parish is to be the home that nurtures your faith journey with Jesus Christ.
---
Our Mission is to Welcome the Community, Grow our Catholic Faith, Worship Together, Build our Parish Family and Act as Christians in the World.
---