Sacred Heart Quick News & Links:
---
F.I.R.E presentation on Cora Evans' Sainthood Journey ~ Sunday, February 25th – click here for details
---
NEXT WEEK! Parish Mission ~ February 26th – 28th, Monday, Tuesday, and Wednesday
Daytime Sessions: 12:30 PM – 1:30 PM
Evening Sessions: 7:00 PM – 8:00 PM
Join us in the Parish Center ~ click here for details
---
Lent Schedule – click here
---
Sacred Heart volunteers at Habitat for Humanity – click here to volunteer and get details
---
Thank you for your involvement! Check-out our impact…. click here
---
Volunteer Opportunities
Sacred Heart Parish is actively volunteering at Martha's Kitchen, Sacred Heart Community Service, and West Valley Community Services. Follow link above to find out more
---
Keep Updated With The Parish Center Renovation! See The New Photos! >
---
Flourish as a dynamic Catholic in our parish community, as an individual, and in the world. Our vision is to nurture your faith journey with Jesus Christ. We invite you to re-engage, re-energize and re-discover Catholicism here at Sacred Heart! Start with our Welcome Mission.
Sacred Heart Mass Schedule:
---
Daily:
7:30am ( M, T, W, F, Sat.)
Thursday:
8:00am (School Mass)
Saturday Eve Vigil:
5:00pm
Sunday:
7:30am, 9:00am, 11:00am
Saratoga Retirement Center:
Sundays 11:00am,
Friendship Hall
Benediction:
First Fridays 12:00pm,
Sacred Heart Church
Reconciliation:
Saturday 3:30pm - 4:30pm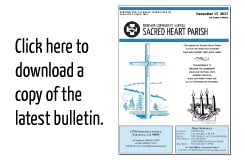 Presider Schedule
February 24th & 25th
Saturday:
5:00 pm: Fr. Gary Thomas
Sunday:
7:30 am:Fr. Robert McKay
9:00 am:Fr. Robert Scholla
11:00 am:Fr. Gary Thomas
Saratoga Retirement Center
11:00 am: Fr. Alberto Olivera
---
Our Vision for Sacred Heart Parish is to be the home that nurtures your faith journey with Jesus Christ.
---
Our Mission is to Welcome the Community, Grow our Catholic Faith, Worship Together, Build our Parish Family and Act as Christians in the World.
---